"LA JUIVE"



"Heavens, what an Eléazar"

...and from which nevertheless Neil Shicoff stood out as a tremendously great artist. Shicoff is no longer just a tenor, he is an exceptional singer who can turn a standard part into the rendition of a staggering personality.

Kurier, October 24th , 1999 .





"Touching truthfulness"

One can not imagine a more simple, touchingly truthful rendition of Eléazar's great aria in the last scene, with such wisely used tenor capacities, that never fail to impress despite their deliberate non-ostentation.

Neues Volksblatt, October 25th, 1999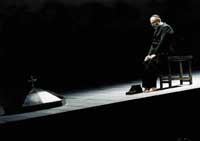 "Birds with broken wings"

…And now it becomes obvious why Neil Shicoff is the right Eléazar: His hatred, up to now not very convincing in its intensity, blooms into the great lament of a Hiob and hardens into the bitter reproach of the deadly wounded…. In Caruso's favourite part, Shicoff raises compassion like a bird whose wings have been broken.

Süddeutsche Zeitung, October 25th, 1999





"Unresolved problem of humanity"

…Any opera can consider itself lucky to have a singer with Neil Shicoff's intelligence, charisma and artistic maturity. The way he lives out the fate of the eternally humiliated Jew from the first moment of his appearance until the deeply distressing end in a gripping character study creates a lump in everyone's throat and even explains why he leaves his foster daughter to her persecutors instead of saving her.

Oberösterreichische Nachrichten, October 25th,1999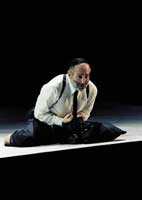 "Vengeance is mine, said the Lord"

…One person in particular makes the evening into a true event: Neil Shicoff…. He has it all: a lyrical heroic tenor and character singer, he impresses especially with his incredible charisma…. When Shicoff sings his "Rachel" aria, everyone in the audience hold their breath – no matter if they are a fan of "Grand Opera" or not.

Wiener Zeitung, October 25th, 1999





"Ovations for the evil Jew"

…Quite obviously, Neil Shicoff 's indescribable, boundless fanatism, his touchingly shy love as a father, his strength and tenderness make him the Jew Eléazar par excellence. No other tenor today could sing this part with such intensity.

Kurier, October 25th, 1999